Mohammed's Koran (signed copy)
by Peter McLoughlin and Tommy Robinson - £19.99(+ £2.90 p&p), 400 pages, weight 900gms.
Mohammed's Koran - Why Muslims Kill For Islam 
--Copy Signed by Tommy--
The increased cost of this signed copy will be used to fund the distribution of free copies of Mohammed's Koran in a town in Britain (the Dawah Tour will begin in January 2018). 
Since the planned book launches (behind the closed doors of private venues) triggered the fascists, we will take books to a random town in Britain and give them out for free in broad daylight.  Let's see the fascists stop this.  There will be no warning.  Tommy and team will just turn up at a random town on a random date.  The event will be videoed so you can see that your donation helped this happen.  Through your purchase more people than ever will learn about Mohammed's Koran, and this idea came to us because of the fascist threats made to private businesses.  The answer to suppression of information by fascists is to spread that information more widely.
Through this Dawah Tour the people of middle England will wake up and the plans of the fascists will have back-fired.  The Left's attempt to cover up for their Muslim allies will fail.
--Copy Signed by Tommy--
   Note: ONLY available in the UK
If you don't want a signed copy of Mohammed's Koran  it is also available AT THE NORMAL PRICE here:
We only supply the UK from this website. The book is is also sold by Amazon outside the UK (and as a Kindle book) at the links below:
USA, Germany, France, Spain, Italy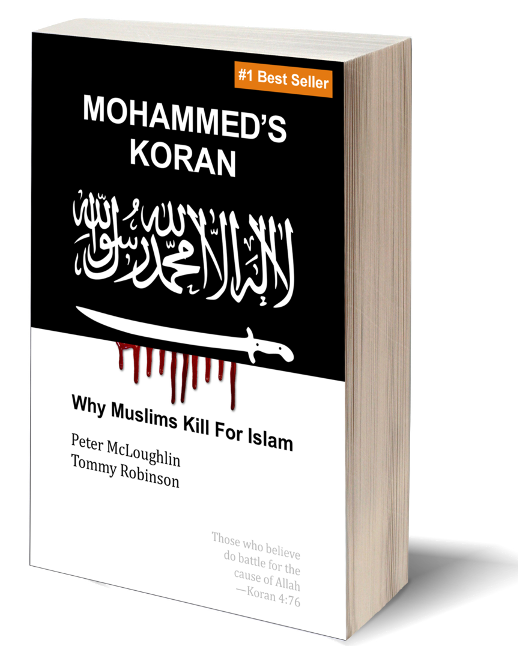 Some sample comments from reviewers:
Straightforward explanation of Islam & why it's so violent...
Me and my Muslim mate have both bought this and well into it...
Fantastic analysis of the problems...
Written in clear, no nonsense, easy-to-understand English...
A first class and well researched book...
A real page turner. It begs to be read at a single sitting...